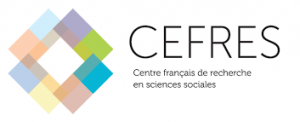 CFA: 2021 Young Researcher Fellowships at CEFRES
(France & Visegrad Countries)
Call for application for 2nd year and above PhD students from France and the Visegrad countries 
Deadline for submission: March 31st, 2021
Duration: September 1st 2021 – August 31st 2022
CEFRES offers year-long fellowships at the center to 2nd-year and above PhD students enrolled in a university in France, Hungary, Poland, Slovakia, or the Czech Republic. Fellows' research should contribute to one of CEFRES's research areas. The amount of the fellowship is 20 000 CZK per month during 12 months. Good command of English is mandatory, command of French is appreciated. The selected PhD fellows will join CEFRES team and take part in the center's scientific life.
Please find the Application Package on CEFRES's website :
in French: http://cefres.cz/fr/5261
in English: http://cefres.cz/en/5263
All applications will be evaluated by a committee of experts. Candidates will be informed of the results of the preselection by 20 May 2021. Preselected candidates will be interviewed at the CEFRES (or online) by a jury presided by the director of CEFRES in the week of the 31st of May 2021. Final results will be published on 7 June 2021.
Questions on the application procedure may be sent to Mrs Claire Madl at claire@cefres.cz.
____
Aides doctorales à la mobilité au CEFRES,
Jeunes Chercheurs de France et de Visegrad. 2021-2022
Appel à candidature à destination des doctorants de 2e année et plus de France, Hongrie, Pologne, République tchèque et Slovaquie
Date limite de dépôt des dossiers : 31 mars 2021
Période de la mobilité : 1er septembre 2021 – 31 août 2022
Le CEFRES offre des aides à la mobilité d'un an à des doctorants en 2e année de thèse ou plus inscrits dans une université en France, Hongrie, Pologne, République tchèque ou Slovaquie. Les travaux des doctorants doivent s'inscrire dans l'un des axes de recherches du CEFRES. Le montant des aides est de 20 000 CZK mensuelles pendant 12 mois. La maîtrise de l'anglais est obligatoire, celle du français appréciée. Les doctorants retenus rejoindront l'équipe du CEFRES et participeront à la vie scientifique du centre à Prague.
Pour le dossier de candidature, voyez le site du CEFRES :
en français : http://cefres.cz/fr/5261
en anglais : http://cefres.cz/en/5263
Les dossiers seront évalués par un comité d'experts. Les résultats des présélections seront connus le 20 mai 2021. Les candidats présélectionnés seront auditionnés par vidéoconférence par un jury présidé par le directeur du CEFRES dans la semaine du 31 mai. Les résultats finaux seront publiés le 7 juin 2021.
Pour toute question, s'adresser à Mme Claire Madl : claire@cefres.cz.